Psalm 73:28 says, "But as for me, it is good to be near God. I have made the Sovereign Lord my refuge; I will tell of all your deeds." What started in 2014 as helping one family in need in the Dominican Republic, has grown to be so much more than we could have hoped or imagined! Even with a pandemic partly shutting the world down, we have seen firsthand that God can't be stopped, he was and is still at work. With that, we are excited to share that the Lord continues to grow our ministry reach around the world though a new partnership with Julie's Heart Cry (JHC) serving the ultra-poor in the Central African Republic (CAR).
To understand the importance of this partnership, it is imperative to know the history and challenges facing the people of the CAR. As the name suggests, CAR is located almost in the center of the continent of Africa. Since 2018, people in the Kembé province (located 400 miles from the capital city Bangui), have experienced unimaginable atrocities at the hands of rebels including rape, torture, executions, and village burnings. Desperate Kembé survivors escaped to bush areas in an effort to make their way to the capital city, taking-in infants and older children along the way who had been orphaned, their parents murdered in nearby villages. Originally from the CAR, JHC founders knew the pain of this situation firsthand, also having family members killed by the rebels. They received  written pleas for help and felt the Lord calling them to help the overwhelmed local church and intervene on behalf of the displaced. After several planning meetings and much prayer, our partnership was formed.
Paradigm Foundation is not only planning on helping to establish housing in this war-torn nation, but aid in construction of basic infrastructure for displaced peoples and orphans in the village of Bimon (21 miles south of the capital city). Our first task was to find solutions to address hunger as the ongoing pandemic and rebel conflict has had a devastating effect in the CAR. While project planning and official start had been delayed due to Covid challenges, we are excited to share that this multi-tiered project has begun with the clearing, and construction of a two-mile road to a 12-acre property which will be used as a farm by locals.
This is significant for two reasons: first, the farm will help those living in the area to be food secure. JHC shares, "Food insecurity is the lack of consistent access – usually financial – to enough food for every person in a household to live a healthy life. When food prices skyrocket due to global economic challenges, that directly impacts food shortages/scarcity and hunger for the ultra-poor in an already challenging pandemic. This land will be used to grow cassava, a root vegetable that is the main food staple of the Central African Republic. The farm's produce will benefit displaced families, orphans in Irene's Home of Hope (a JHC ministry), local pastors, and widows in the community. This project will increase income for those selling part of the cassava harvest and decrease hunger not only during this pandemic but for years to come." The other way this project is blessing the village is that we are hiring locals to prepare the land. Thirty people have been employed for clearing for the new road and tilling the land in preparation for the Cassava planting.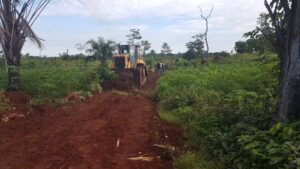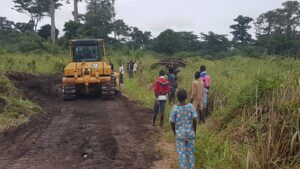 Secondly, the road itself, is the first road in this region on the map of the Central African Republic. The road will allow neighboring villages access to another main thoroughfare where they too, can sell their goods to produce continued income. It is our prayer that both the road itself, and the land to be cultivated will encourage self-sustainability and lead those affected by this project to see and surrender their hearts to our loving God who can meet every need (Phil. 4:19).
Please join us in praying for God's protection over this 12-acre farming project, for a bountiful harvest (spiritually and materially), and for Julie's Heart Cry as they serve these vulnerable families, daily. Stay tuned – more to come on this exciting ministry partnership!